13 Steps to Bloody Good Parenting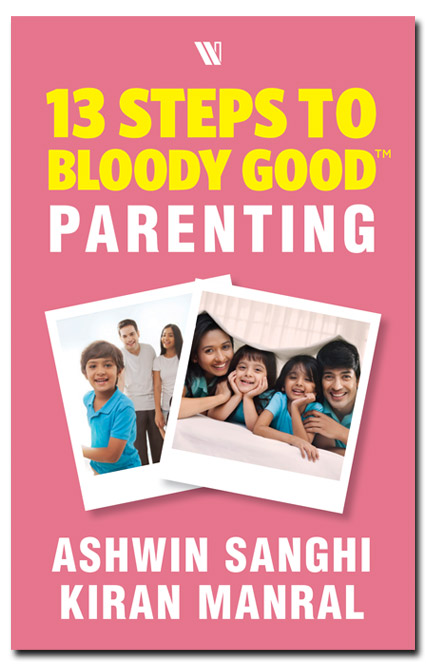 Synopsis of the book:

A WISE MAN ONCE SAID, 'BEFORE I GOT MARRIED, I HAD SIX THEORIES ABOUT BRINGING UP CHILDREN. NOW I HAVE SIX CHILDREN AND NO THEORIES.'
In this age of hyper-information, parenting is much like tap-dancing in a minefield. There was a time when parents had nothing to draw from except for their experiences with their own parents. But today, there is information overload and conflicting advice from multiple 'experts'.

HOW ARE PARENTS TO NAVIGATE THIS JUNGLE OF COUNSEL AND STILL RETAIN THEIR SANITY?
The short answer: common sense. 13 Steps to Bloody Good Parenting uses wit and prudence to show that parenting is not an exercise in theories but about learning on the job. In the patented, no-frills style of the 13 Steps series, the book cuts right through the din of information and advice.
Parenting is a huge responsibility. With 13 Steps to Bloody Good Parenting, it can become a more thoughtful and enjoyable one.
Reviews
"Pop writers Ashwin Sanghi and Kiran Manral tell us in 14 chapters, how to Protect, Nourish, Love, Laugh… you get the drift. This easy-to-read book is really a reminder to do the simple things that we tend to forget as we go about daily life."
–The Hindu
"Parenting is not a tried-and-tested formula but requires continual and uninterrupted learning and adjusting…"
–Free Press Journal
"Parenting is complex, agreed, but why do we fret so much about it? The take-home message is about why parents need to relax, take it slow and remember that they are the best!"
–Kids Stop Press
"These 13 Steps are a joy to read in a completely affable, non-preachy manner."
–Momspresso
"13 Steps to Bloody Good Parenting uses wit and prudence to show that parenting is not an exercise in theories but about learning on the job."
–Mommytincture